Well I believe it's been 2015 for an entire month now, and so far I have to say I am loving it. Lots has changed since I last posted on this blog. I finally feel positive and confident enough to start posting again; I'm not promising daily updates and outfits and I don't believe in putting pressure on oneself to maintain a blog just for the sake of doing so, but hopefully my next post won't be another eight months coming. So anyway, here's a little update about what's changed in my life since I last posted here (hint: it's a lot!) and also today's #ootd.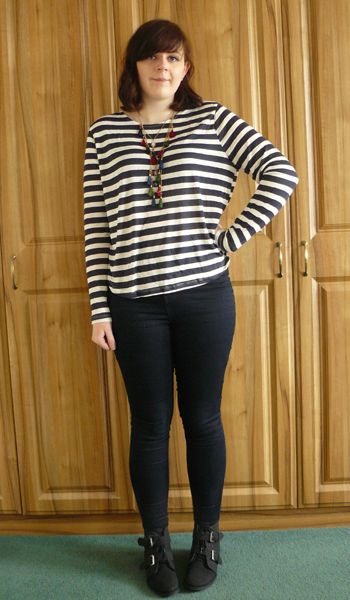 Top from H&M, I can not resist a nice stripy jersey
Jeans from Tesco, the best dupe for a Topshop Joni I ever met
Necklace from New Look, long necklaces never hang right on me #bigboobproblems
1. I graduated! I am now Rosemary Baldwin BA (Hons). Exciting stuff. Uni itself wasn't really my cup of tea but living (mostly) independently with a large group of people was a massive learning experience for me and I know how much of a better person I am now because of it. Plus it was bloody good fun.
2. I have a new job! When I left Uni I was working at the Co-op at home on a zero-hour contract and I was not happy. In September I got promoted to Supervisor and given a pay rise and full-time hours, which was obviously great, and working in the office was a lot of fun, but the role itself was quite boring at times and I wanted more of a challenge, and somewhere with more opportunity for career progression. And almost by accident (I applied on a whim without expecting anything) I got a job as Supervisor at Warehouse, which I love. I started in January and I've already learnt loads about fashion, visual merchandising and how the company runs, and I can't wait to start working my way up through the business. Plus I get an amazing uniform allowance and staff discount <3 <3 <3
3. I've lost a load of weight! Since the end of July, when I started Weight Watchers, I have lost approximately one stone. I'm still 'overweight', technically (although I still maintain that I have concrete bones) but I feel So. Much. Better. On a slightly related note, I've also got contact lenses which has really increased my confidence too.
So, life is very exciting right now! Today I've been for lunch with my lovely boyfriend (whom I met on Tinder about three months ago which is a ridiculous/lovely story for another day, maybe) and now I am off to have cauliflower cheese pie for my dinner, yum.