I was mooching through some of my old blog posts the other day and I found a post I wrote about
my skincare routine
. It was quite amusing really to see how much my routine has changed since I've got more into blogging, reading reviews and more aware of different brands. While it's still true that I tend to stick to what I'm used to, I do enjoy an occasional sample of something new, and I do like to alternate between two or three products throughout the week, just because I can!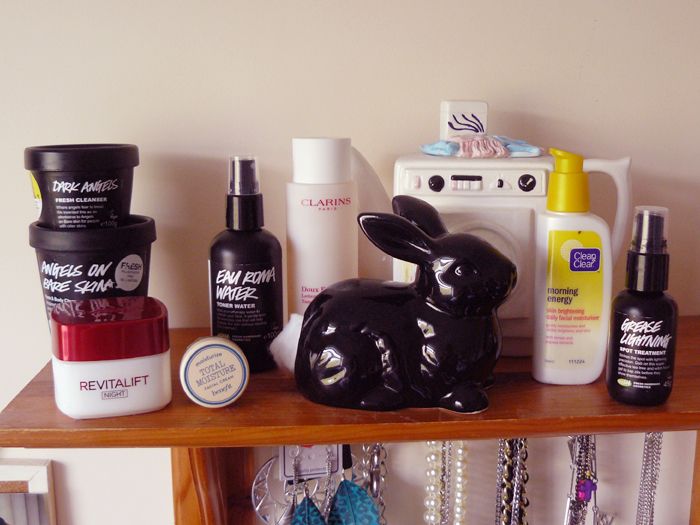 So, from left to right I present to you:
This stuff is just super, it smells lovely and it looks crazy - how often do you find a black facial cleanser?! I tend to use this maybe once a week, just for some extra scrubby-goodness. Apparently you can also use it on your body, but I try to save it just for my face so it lasts even longer.
I use this almost every day, it's a very gentle exfoliator but it's tough enough to make my skin feel fresh and clean. It smells like lavender but not in an overpowering way, I generally can't stand lavender but I make an exception for this!
I turned 23 last month and around that time I started to notice genuine wrinkles under my eyes. Everyone I've shown has said that I'm being paranoid, but still, I figured it wouldn't hurt to start taking some precautions. I massage this cream into the skin under my eyes before bed, and then a little bit into my neck, forehead and cheeks too. I haven't noticed a massive difference although the bags under my eyes might possibly be a bit lighter. I have been getting a lot more sleep recently though so I'll have to report back on this one when it comes to mega stressful exam time!
I've never really been 'wowed' by a moisturiser, so I'll try anything just out of interest. This one smells lovely and feels thick when you put it on but still sinks in well. This was a sample from a Benefit event last month, and I probably wouldn't splash out on a full-price one, but I am enjoying using this while it lasts.
This is a lovely toner for helping to reduce redness, and it makes my skin feel really fresh after using it. I just spray a bit onto some cotton wool and wipe it over my face, especially across my nose and between my eyebrows.
(Bunny full of cotton wool from Tiger)
I use this once a week if my skin is looking a bit crap, it feels really nice on and I do notice a difference to my skin throughout the day - it looks and feels a lot fresher. If I could afford to, I would use this more, but I want to savour it as it was quite expensive!
(Washing machine teapot, for decorative purposes only)
Clean & Clear moisturiser (discontinued)
I bought this because it was £1 on the clearance shelf at Boots. It's nothing special but I do trust the brand Clean&Clear as they are supposed to be good for oily skin, also this one smells really nice!
I use this if I'm having a spotty day, which thanks to my extended skincare routine isn't too often any more! It works really well at drying out spots and reducing redness - I find it's better to put it on at night because then you can properly slather it on, but it is handy to put on under make up to create a bit of a barrier.
So there you go, a lot has changed since my last skincare routine post! I do think my skin is a lot better than it was back then, I think using so many natural products from Lush has really made a difference!