I've recently realised that although charity shopping is one of my favourite hobbies of all time, and one I am considering taking to a professional level (if only), I don't really talk about it on my blog. A lot of my outfits feature items I've nabbed in a charity shop but I've never done a haul or feature. Well, until now. Inspired by
Amie from Credit Crunch Chic
and her
'Charity Shop Find of the Week' feature
, as well as the amazing purchase I made yesterday in Welshpool, I thought I'd start shining a light onto some of the gems I've discovered in all my years of charity shopping.
Yesterday we (my sister Suzie and I) went shopping in Welshpool, a very little town near where my Granny and Grandad live. I did pretty well in the first few charity shops, coming out armed with a rather daft teapot for my daft teapot collection (might do a post about this one day!), a vintage dress and a pair of wedge sandals (photos below), but it was when we went into British Heart Foundation that I really struck gold.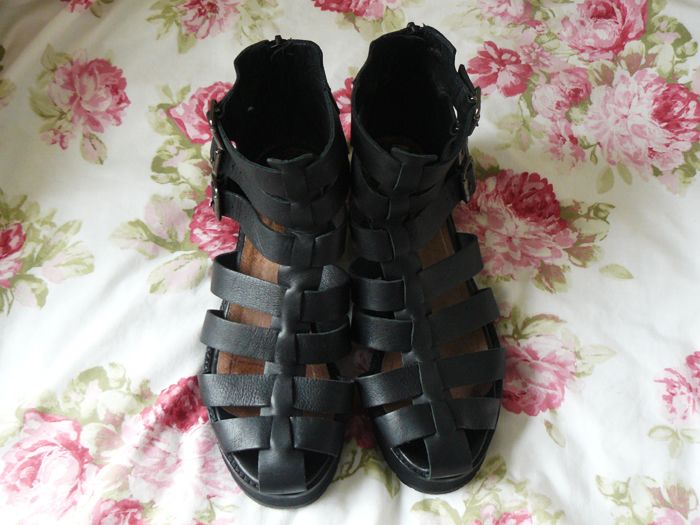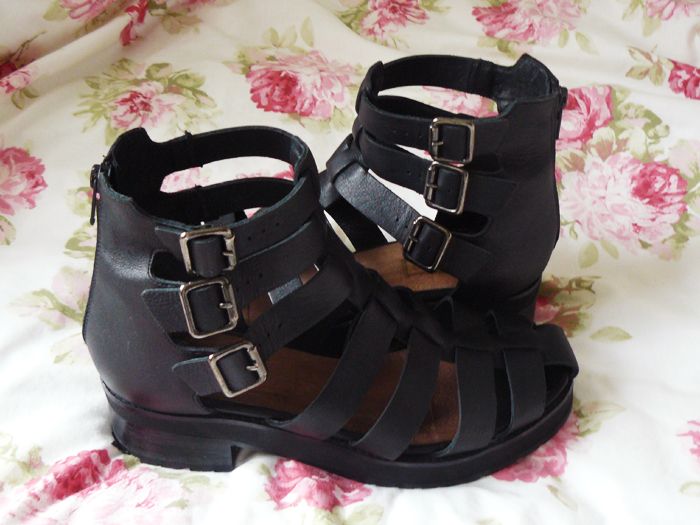 I've wanted some shoes like
these from New Look
for a while but not really had the money to splash out. And as luck would have it, what did I find waiting patiently for me in the corner of British Heart Foundation? Yep, the Topshop equivalents, in my size, for a mere £6.99! What a win! I am so excited to wear these, they seem to go with pretty much everything! They look great with jeans and skirts but because the toe part is technically closed, they also work with tights too! Fabulous, good work Topshop.
Like I imagine most charity shop keeners will do, as soon as I got home I went on a Google mission to find out how much they would have cost originally. Having paid £6.99 for them I knew I'd saved a lot of money anyway, but it turns out these originally cost £72 in store! How incredible is that?! Of course the ones I've got have been worn and the soles are a bit grubby, but who really cares when I saved over 90%?! There's such a massive sense of pride and satisfaction when you get a bargain like this - it really is worth the effort of browsing through rail after rail of rubbish to find that one sparkly gem! And if you happen to find more than one pretty thing, well that's even better!
Other bargains from the Welshpool charity shops: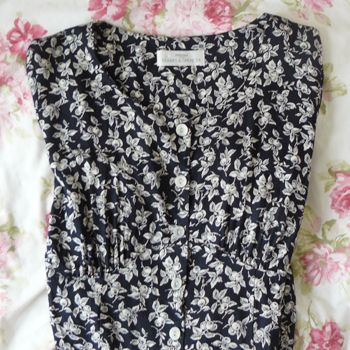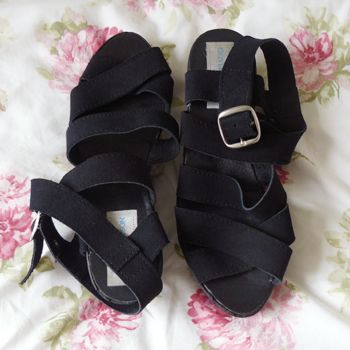 Lovely vintage M&S tea dress / Low wedge sandals