It was my sister's 21st birthday a few weeks ago and as I was shuffling through all the photos off my old laptop, looking for a baby photo to embarrass her with on Facebook, I found a load of old 'outfit' photos I'd taken. I've never had an outfit blog before this one, so the majority of these photos were taken out of boredom, vanity, or the MySpace mentality, and I thought it would be fun to make a little timeline to see how much my style has changed. I'm also so tempted to create a hair timeline too, I used to LOVE the hair timelines people posted on Mad Rad Hair on LiveJournal, oh how times change!
Summer, 2006
This is probably the oldest selfie I have stored on my computer, and trust me, I used to take a LOT! Check out the awesome flip phone and MySpace pose, what a winner. I spent a lot of time in 2006 and 2007 being ill, and I ended up pretty tiny as a result of that - you'd never catch me in such a clingy t-shirt nowadays!
Spring, 2008
For some reason I don't have any photos of myself from 2007, but perhaps that's for the best! I can just about recall the skinny jeans vs massively baggy trousers decision every Saturday before town (it depended what everyone else was wearing), braces and two belts and so much eyeliner. 2008 was all about jeans and baggy t-shirts for me as I wasn't exactly body confident! I do actually still have the t-shirt from the above photo (it's a band t-shirt I got from a Kills concert) but now it is strictly pyjama-wear.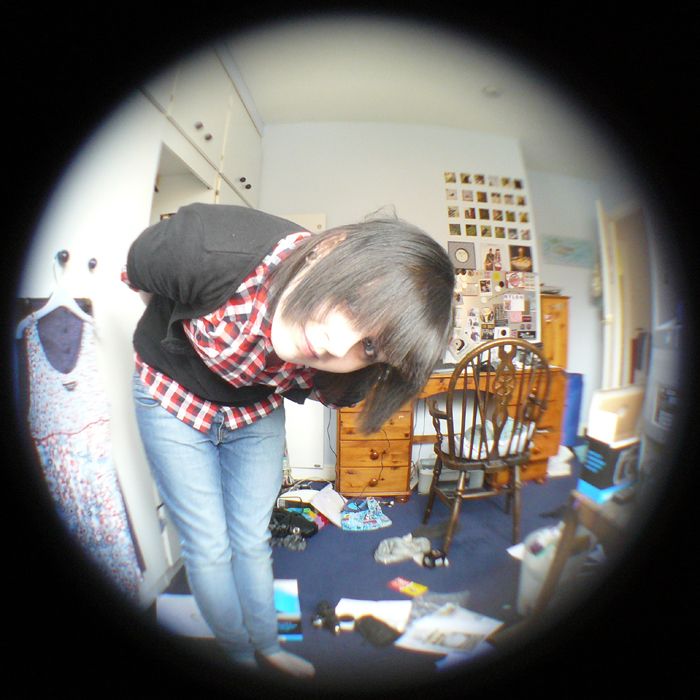 2008 was when I properly got into records and film photography, check out my Polaroid wall in the background! I had a fisheye lens and I
thought I was Alison Mosshart
. Except clearly I didn't know how to buy jeans that fit properly, sigh.
Summer, 2008
Apparently I finally realised that there were other things to wear besides skinny jeans and I started to embrace high-waisted skirts. That phase stuck around really, I still regularly opt for skirts over jeans, well done young Rosie!
Autumn, 2008
Going to Sixth Form and actually being able to wear whatever I wanted is probably what started me taking these outfit photos. I never did anything with them, but I did take a fair few. I remember wanting this particular Topshop skirt for ages but it was so expensive, then I found this size 16 in the sale and safety pinned it to fit me. Sounds like something I would do today, anything for a bargain! Also might be worth noting that I still use this camera for my outfit photos today!
Spring, 2009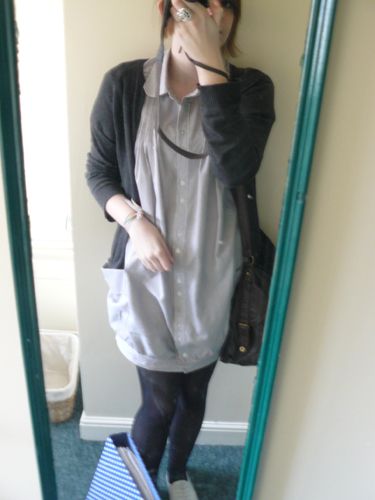 I'm actually so jealous of early 2009-Rosie's style! I had these awesome white jazz pumps for my birthday that went with everything, I miss them so much!
Oh and I had slightly blonde hair and this beautiful blue Topshop skirt which I paid full price for. I still have this white t-shirt but it definitely doesn't hang off me like it used to anymore!
Winter 2009
I apologise for the absolutely awful quality of this photo, I'm pretty sure it's a webcam one from my old desktop computer. As you can see I still had not grasped the concept of jeans that fit properly! I do however still occasionally wear this top from H&M. The scarf in this photo was also from H&M but I somehow lost it on a shopping trip to Telford a few years ago. I'm still pretty distraught about that as it was my favourite scarf of all time ever, I would pay quite a lot of money to have it back, and I do still occasionally scour eBay in case one pops up.
This post has been quite fun to write and almost equally as cringey. I might one day do a 2010-2013 version but there are a lot of memories in those computer folders that I'm not sure I can face yet!