For my birthday (which is on Tuesday so this post is a bit naughty) my Mum offered to buy me the Zara Office City Bag which I've wanted for ages but never been able to afford. The original 'office' version has long been sold out but happily
this version
is still available online and in most stores. I have been using it all week (see, so naughty) and I am really happy with it! It's got a crazy amount of pockets and compartments and as I am Mary Poppins but with a rubbish singing voice and a Poundland umbrella this is pretty perfect for me. My one complaint is that, as I've found with a few Zara bags, the zips aren't great and get stuck a lot. This happens more when the bag is empty as the fabric moves more, so my advice is to carry a lot of stuff to avoid annoying sticky zips, simple!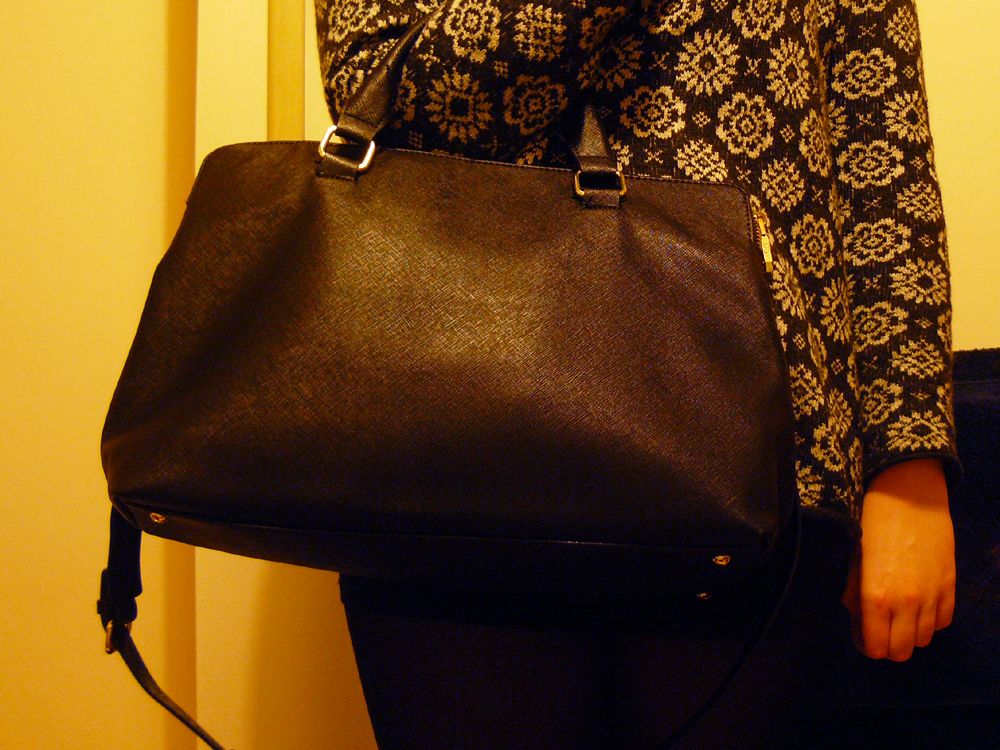 The contents of my bag are actually quite dull. Normally I carry a lot more rubbish around with me - right now, and I kid you not, there is a wooden spoon in there. My purse is from Topshop, my make up bag is from Zara and contains pretty much everything a girl could need - concealer, eyeliner, glasses wipes, Polos, lip balm, hair brush, dry shampoo, deodorant - I'm always the go-to person if my friends need something on a night out! My glasses are
Cosmopolitan from Glasses Direct
, pen from Paperchase, notebook from Sainsbury's and my phone case is from eBay. I think I'm the only person who still has a BlackBerry, am I wrong?!
Inspired by the lovely Being Little and her creative prompts, I'm trying to get back into drawing which I am keeping track of through
Instagram
. Day two is 'What's in my Bag', hence this post! These prompts have also (clearly) inspired me for a lot of exciting blog posts, so hopefully I can find the motivation to stick with it!
By the way if you are reading this and you have once been a follower or would like to follow me on Bloglovin', please click here, as when I switched my URL at the start of the year I lost ALL my followers! Not good.