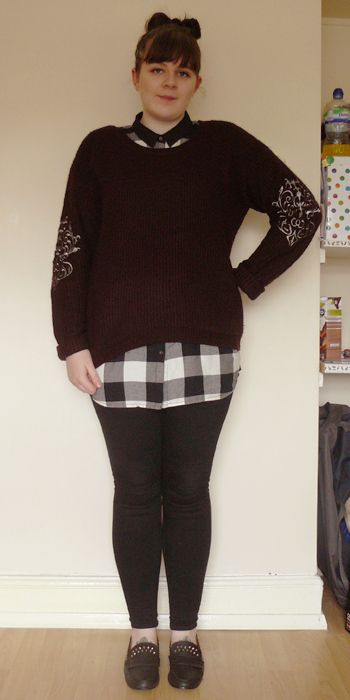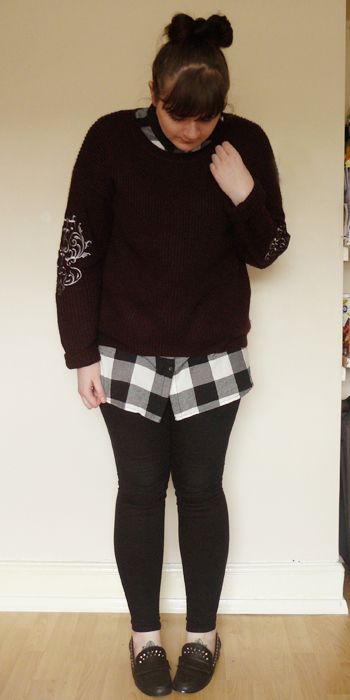 Jumper: Dorothy Perkins
Shirt: River Island
Jeans: Topshop
Shoes: Bank
Hello all. Check out this fancy new jumper I bought yesterday! I was just mooching around Cardiff waiting to meet my boyfriend for lunch and I found myself in Dorothy Perkins. I don't normally like much in Dorothy Perkins, so perhaps I thought it was a sensible way to kill some time without spending any money. Well I was wrong, but only a little bit. This jumper cost me a grand total of £4.50 with student discount, what a bargain!
I'd pretty much forgotten about the
bow hair tutorial
I made last year, but we watched Hair on BBC3 last night and one of the contestants had her hair like it (except much more fabulous as she had super long red hair) so I thought I'd help bring it back.
Today I need something exciting to do so I'm going into Boots to get my disposable cameras developed. I've had one of them since last February, so that should be entertaining! And then I think tonight involves face masks, wine and Chinese food. And a little bit of Uni work, obviously ;)
Please remember to
follow me on Bloglovin'
as I lost all my followers recently! And if you're in the South Wales area, or will be in two weeks, grab a ticket to the Spring Meet-Up
here
!