So, mooching as I often am in Boots the other day I came across this pretty fantastic offer from Boots brand
SEVENTEEN
, one of my steady favourite make-up brands. Spend £8 on SEVENTEEN products and get this free Brow's That palette (worth £6) for free, alright then! Seeing as I was already buying a £4 nail varnish I thought I might as well get a lipstick (you just have to don't you) and get a nice freebie too!
I have absolute nightmarish eyebrows. I'm sure everyone says that but honestly, mine are just ridiculous. An unfortunate tent-related accident (you can't make these things up) when I was 11 left me with a huge white scar across my right eyebrow meaning that I forever look like I've shaved jazzy patterns into my brow, which isn't really a look I can get along with. I have to keep my brows pretty thin to follow the shape of the scar, but my eyebrow hairs seem to grow quite long and are hard to shape from one day to the next.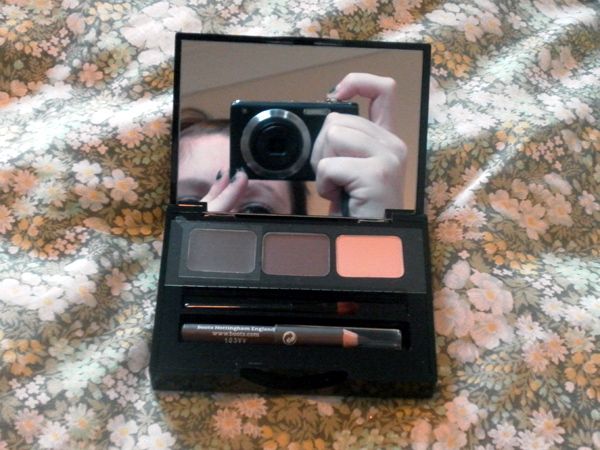 This palette contains a brow pencil, wax, setting powder and a highlighter. The little instruction leaflet that came with it told me to pencil on my brows with short strokes (ie. colour in the huge white gap in the right one), then apply the wax in long sweeping strokes to hold the straggly hairs in place. You then dab on the powder to set the wax and finish off with a bit of highlighter under the eyebrows for extra fancy-ness.
I was incredibly impressed with this kit, especially for a freebie! The woman in Boots told me it's supposed to rival Benefit's
Brow-Zings
, which I have never tried, but I have a shifty eye on its £23.50 price tag, for which I could buy four 'Brow's That's and a chocolate bar if I used my discount card! But anyway, what I love about this palette is the staying power of the products. My eyebrows are still 90% perfect at the end of the day (a standard day involving Uni, a nap and some telly-watching), the only minor downside is that it takes me a while to do all the fiddly little steps; I'm pretty certain that the past few days I've spent more time make-up-wise on my brows than the rest of my face combined, maybe I just need some practice!
Overall I would definitely recommend this palette, especially on the offer, and SEVENTEEN have really good nail varnishes and lipsticks if you need an excuse to spend £8!