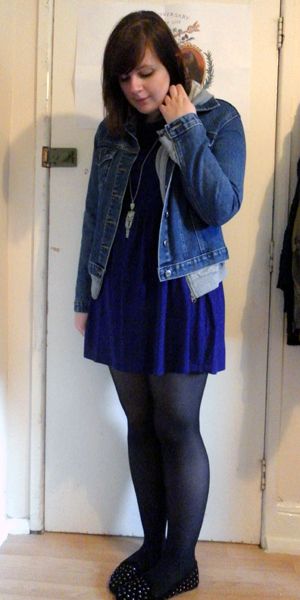 Denim jacket: Vintage M&S
Necklace: Accessorize via eBay
Just to say, I'm not intentionally trying to look moody by looking at the floor all the time, I just had a really gormless face on this morning! And also I left my tripod at home when I moved back to Uni so I had to construct one using my bedside table and some sticky tape!
This is what I wore for the first day of my last year of Uni. We had to go in to pick up our new student cards and discuss deadlines for dissertation (eek!) and module options. I'm thinking about doing a French module if they will let me, although my GCSE French is a bit rusty so I'm not sure if this is the best idea! If not I'll probably end up doing an International Marketing module which sounds really interesting.
I'm almost just about settled into my Uni house, although I still have some unpacking to do which is very unorganised of me. This year, although I'm still in the same house, I've got much better storage as I have a new desk and my Dad put up some shelves (which we're not technically supposed to do so don't tell anyone!) and I've decorated a bit more, so I might post some photos of my room soon because I'm actually quite proud of it!