I wrote about the
Lush blogger even
t back in June; it was a brilliant night, I discovered some amazing products and to be honest I am now generally a bit of a Lush fanatic*. Unfortunately some of the samples I mentioned in my last post got a bit destroyed when I moved out of my Uni house, but I've been back since and re-stocked my collection with some different treats, all paid for with my own pennies and all completely worth it!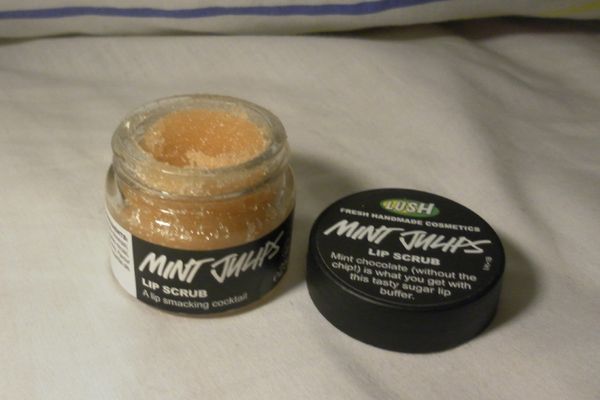 I bought this lip scrub at the blogger event after seeing it mentioned on a few other random blogs. I was curious because it had never occurred to me that my lips might need scrubbing, but after trying it I can't believe I hadn't thought of it before! This one smells (and tastes, it's all natural so you can eat it, yum!) of mint and chocolate and leaves my lips feeling really lovely and soft and tingly, especially combined with loads of lip balm afterwards!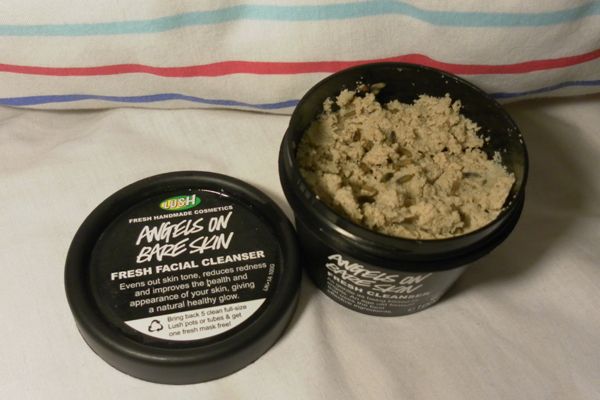 I got given this cleanser at the blogger event but have since had to re-purchase as I used it all up! It's probably the best face cleanser I've ever used, and that's a lot from me as I do sometimes hold back from being so enthusiastic! It smells delicious, like lavender and oats and it feels really gentle to use but still like a scrub, which is just perfect for me. My skin has been so much better since using this, the scrub makes it smoother and the rose oil helps calm redness. 10/10, A*, bravo Lush!
This is the 'stronger' version of Angels on Bare Skin. I'll be honest, I only bought it because of the colour. I've never seen a black facial cleanser before and never even considered that one might exist. I use this once or twice a week if I'm having an 'I feel icky' skin day. It smells delicious, like aniseed with a hint of lemon, and it feels like sugar so it's a really good exfoliator. Unless you have particularly oily skin I wouldn't recommend using this every day but it's good for an extra deep clean now and then! It's also fun to only apply it to the bottom half of your face and pretend you have beard stubble, just fyi.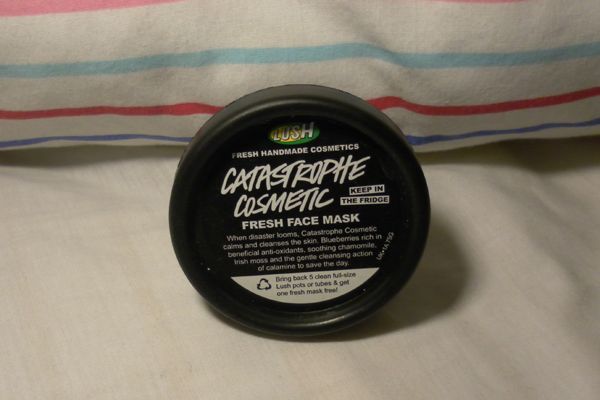 I always find it a bit amusing that these face masks need to be kept in the fridge, but I guess that just shows how fresh and lovely the ingredients are! Catastrophe Cosmetic is made of/smells like blueberry and chamomile and reminds me of Parma Violets (the sweets I mean, not the band). I have used it all up now, which is why I only have a picture of the pot (I'm saving it 'coz if you bring back five clean and empty containers to the shop you get freebies, score!) but it was lovely to put on after I got home from the gym as it cooled me down and stopped my face being so puffy and red from exercising. I found the benefits of this face mask were more in the luxurious, cooling feeling than anything else, but it was still a nice treat after a hard day!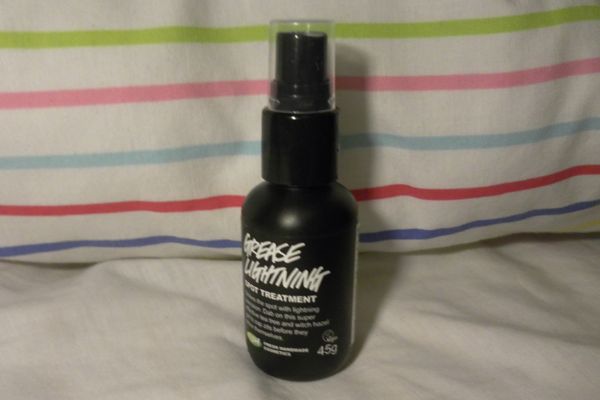 Funnily enough (and entirely accurate) I found this on a google search for 'best spot products'. I get really bad cystic acne when I eat too much dairy (which would be easy to solve if I just cut out dairy products but chocolate) and I wanted something that would target them with some oomph-y power. It works super quickly to dry out and soothe spots with tea tree and witch hazel. I found that if I applied it in the evening to a normal spot, by the next day the spot would be well on its way to disappearing and much less noticeable. It's sadly not quite as effective at battling my cystic acne, but it does help, which seeing as it's somewhat self-inflicted, is the best I can hope for really!
So there you go, my small collection of Lush products. I've loved each and every one of these and I'll definitely be experimenting with more soon. I'm intrigued by the hair products as my hair is just a big fat pain to deal with tbh. Wish me luck with getting my dream job at Lush, then I can spend all my time and money there and justify it as research!
*My boss told me not to use the word 'fanatic' in press stuff as it sounds bad, but I promise my fanatical intentions are 100% positive!