So if you follow my blog, it kinda looks like all I've done this summer is shop. But that's just not entirely true! I miss posting outfits and beauty reviews but my life has been full of work. I have got a bumper reviews post planned for this week which I'm excited to write; I had some really good feedback about my last post regarding boobs bras so I'm going to try to involve my writing skills a lot more in my blog!
Anyway, I finally sorted out my tax codes (I have two jobs and HMRC were unfairly charging me a fortune!) so next week I should get back a chunk of money they owe me, which of course meant a bit of a shopping spree! I did spend a lot of money which was very naughty of me, but I'm super happy with everything I bought and I know it will all be useful when I go back to Uni and actually get to wear things that aren't pyjamas/work clothes!
Cropped black tee from H&M: £3.99
Okay probably not the most sensible/justifiable purchase to begin my haul with, but my sister bought about 300 cropped tops in the sales yesterday and I wanted in on the action. I'm planning to wear this with a high-waisted skater skirt for casual nights out.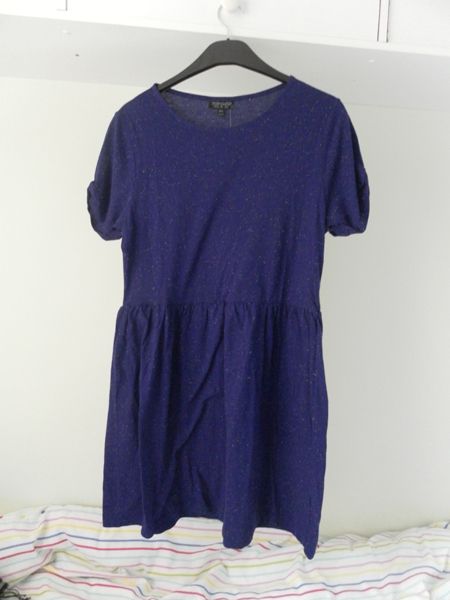 Purple dress from Topshop: £12 (£10.80 with student discount!)
I am wearing this now as it turns out, and when I leave the house there will be boots, a hoodie and a denim jacket involved too. I already have the grey version of this dress (
worn here
) so I thought I'd be daring and add some actual colour to my wardrobe (!!).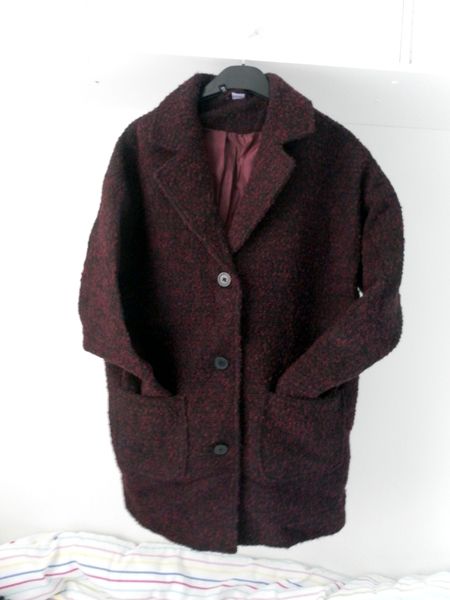 The Dream Coat from H&M: £34.99
Let me just say, I have wanted a coat like this (oversized blazer, but in winter coat form) for over a year now, and when I walked into H&M and saw it by the door I actually shrieked out loud (ask my sister, she was there). I threw my bags on the floor and dived right into this beautiful creation and I swear it was love at first sight. I did the whole 'I'll walk around a bit and think about it' thing to make me feel like I was being sensible but really, who was I kidding? I am so excited to wear this coat aaaall winter, so please can it get cold soon?!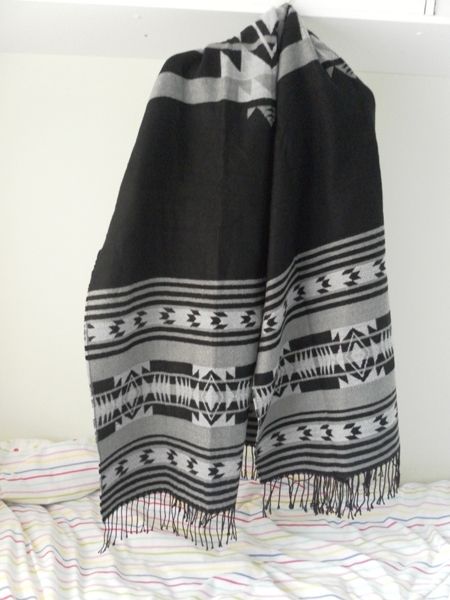 Aztec pattern scarf/shawl/blanket/rug from H&M: £13.99
While I was walking around pretending to decide if I wanted to buy aforementioned Dream Coat, I happened upon this scarf. It's actually more like a shawl and to put its magnificent size into perspective, if I spread it out on my (single) bed it covers it completely. I plan to wear it sensibly like a scarf to walk to Uni, then curl up in it and nap during my lectures (jk, well maybe)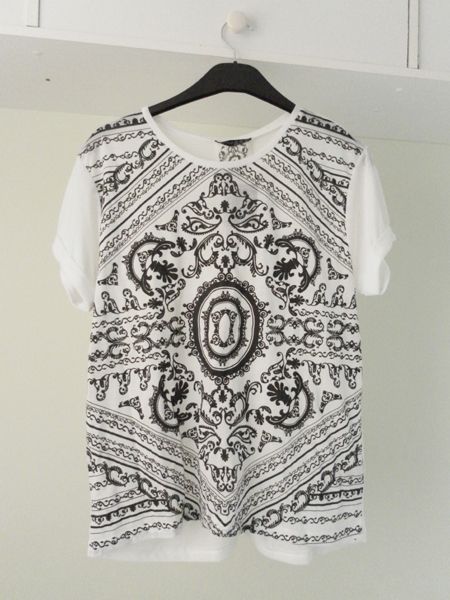 Printed t-shirt from Primark: £5
I don't know what one is supposed to call this style/pattern but I call it 'I look like I'm wearing an ugly vase but in a really awesome way' and it was just too beautiful to leave in the shop.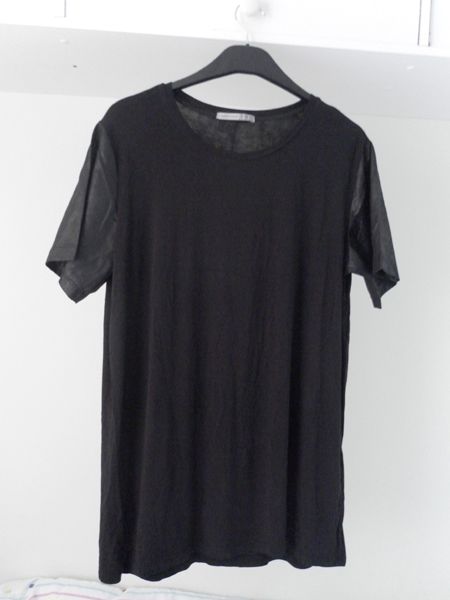 Suedette sleeve t-shirts from Primark: £4 each
These t-shirts are so lovely. I got them a few sizes too big because they are just long enough to wear as dresses for a night out, otherwise they'll look awesome tucked into high-waisted jeans/skirts. Good bargain.
I also bought some new face stuff from Lush, a pinafore dress which was really hard to photograph and some new creepers (£7 in the New Look sale, winning!) to replace my tatty old ones. Oh and two Krispy Kreme doughnuts for lunch, oops :)