Yesterday I was lucky enough to go to the South Wales Bloggers' meet-up in Cardiff. The meet was very well-organised by
Laura
,
Chantele
,
Leanne
and
Georgina
so massive thanks to them for such a fabulous day!
I wore my new, specially-bought Motel dress and let me tell you it was such a pain! It's hand-wash only and arrived completely crinkled; I spent ages ironing it on Friday but then after half an hour on the train I arrived in Cardiff a complete wrinkly mess once again! I'm hoping Mama B can sort it out with some of her laundry magic when I go home in June!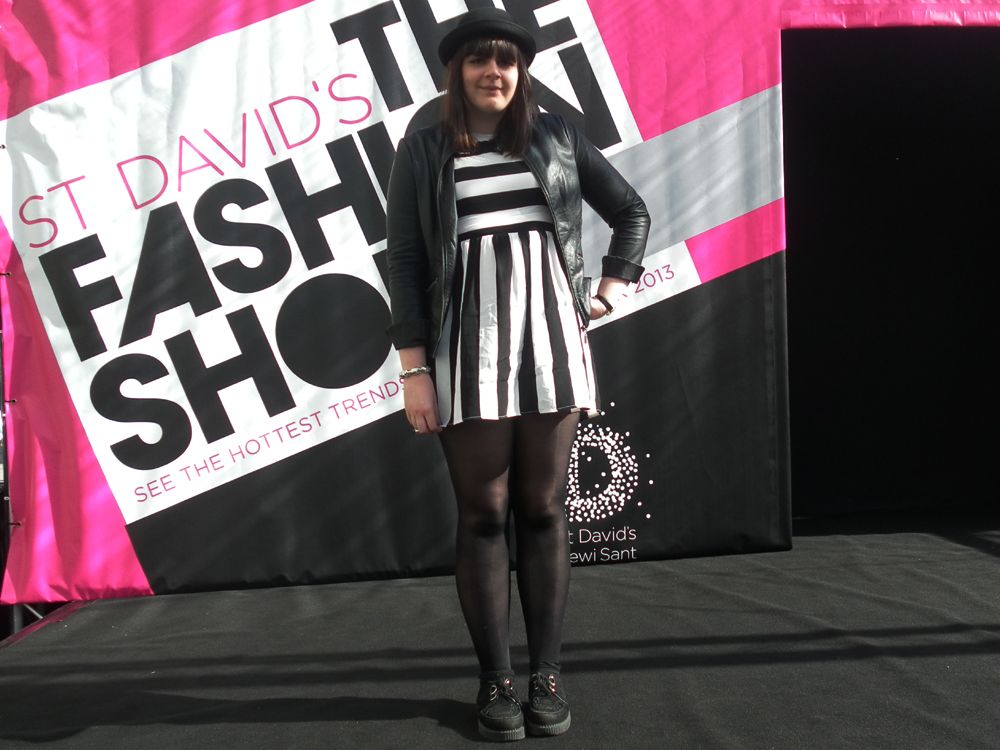 Hat: eBay
Jacket: Wallis
Dress: Motel
Creepers: Amazon
Bemused facial expression: Model's own
I met up with Stef from
Cowbiscuits
at the train station before we headed to the event at the Brewhouse. I was quite nervous so it was nice to have someone to walk in with! We were treated to massive goodie bags, two-for-one cocktails and pizzas, cupcakes and demonstrations from Lush. I had a nice chat with Leanne and
Gemma
who I've met before, and
Amy
who I met at the bar waiting for drinks.
After we'd scoffed our food and worn the poor cocktail waiter out with our drink demands, we headed to
Crabtree & Evelyn
for hand treatments (everyone else) and sticking our noses in all the tester pots (me). Then there was time for a cheeky Starbucks before we watched the fashion show. I didn't get many good photos because I am useless but
Laura's vlog
shows the outfits and some of the awesome dancing really well! After that we had a bit of a chat with JP the stylist of the show and I got a cheeky outfit photo (above) on the catwalk, then a few of us nipped into Ollie & Nic to say a huge thanks for the cute little purses from our goodie bags, then on to Queen Street for some shopping! I was absolutely exhausted when I got home but still (somehow!) found enough energy to rummage through my goodie bag, flicking through all the leaflets and poking my nose (once again) in all the smellies! I'm particularly excited about the Benefit mascara, the Bioderma cleanser and the Mirenesse lip crayon from the Birchbox.
Thanks everyone for an amazing day, it was so nice to meet some new people and chat to a few familiar faces. Can't wait 'til the next meet-up!