First of all I just want to say a big huge sorry for the serious lack of outfit posts over the past few weeks! I've been so busy with work and stuff, and I brought barely any nice clothes back from Uni with me! I'm going to London on Thursday and then after that I'm going back to Uni where my clothes, my tripod and my routine live! So normal outfit posts will resume from Monday, along with a big London photo post!
I'm also planning a little giveaway for when I reach 50 followers (at the time of writing this I am three away, so exciting!) I'm so grateful to everyone who reads and comments on my little blog, it makes me so happy! I'm already putting together a little goody bag with some beauty/jewellery bits in and might pick up some treats in London too, so keep your eyes peeled guys!

Anyway, on with my current wishlist; basics with a tiny bit of sparkle (I just can't resist!)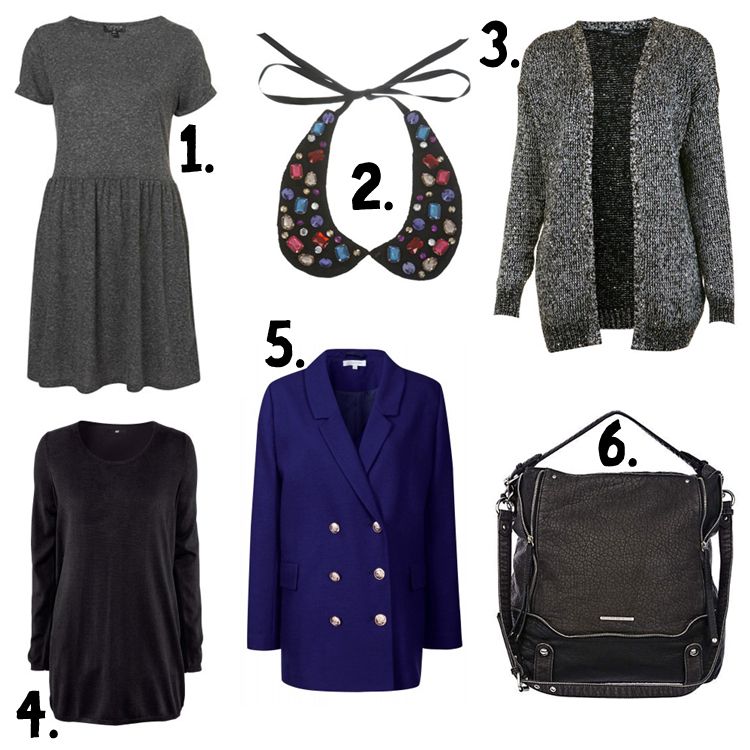 1. Speckle roll sleeve mini dress from Topshop:
I really wish I had more dresses in my wardrobe. This dress is the perfect shape for me, and it has sleeves which is always a must. I think the price is a bit steep for a basic jersey dress but I guess it is Topshop, and their dresses are usually good quality.
3. Black sequin cardi from Miss Selfridge:
I don't have many cardigans, I always seem to wear the same
black charity shop one
over and over. Realistically I probably wouldn't wear this one, but, so sparkly!
4. Black slouchy jumper from H&M:
I could do with a basic black jumper to wear with the midi skirt I eventually bought from my
last wishlist
. Also you can't really go wrong with a basic black jumper!
5. Oversized Madison blazer from Glamorous:
I've been after a new coat for a while as I've been wearing my
green parka
pretty much every day for the past few months. This one is a bit steep in price for such a bold colour but I've found a similar one in black on eBay for under £10 and hopefully it will be mine when bidding ends tomorrow! Then of course I'll need a fur collar to add to it, this list just keeps growing!
6. Black double zip slouch bag from River Island:
My current go-to handbags are canvas tote bags and I'm beginning to feel like I need something more secure and a bit less scruffy. This one would go with pretty much anything (I rarely wear brown, so yes, anything!) and the zips make it ideal for going between 'slouchy and stuffed with Uni crap' and a bit smarter for, you know, smarter things...