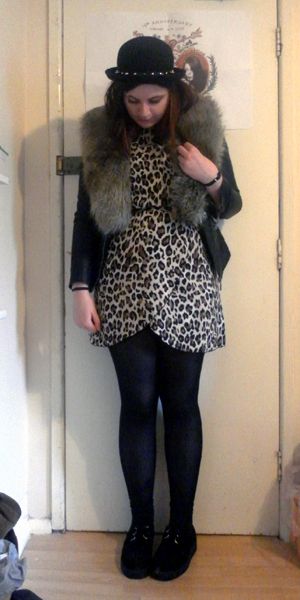 Hat: eBay
Leather jacket: Wallis
Faux fur stole: Dorothy Perkins
Dress: H&M
Creepers: Amazon
I'm not sure why the quality on the second photo is so weird. Maybe I've finally dropped my camera one too many times!
I've had loads of work to do this week, but of course I've been naughty and left it to the very last minute! By Friday hopefully it will all be over and I'll have a few fairly chillaxed weeks ahead of me!
I bought this dress in the H&M January sale for London. It's really flattering, but not really a sitting down dress, as the wrap bit at the front gets a bit awkward!Also, check out my lovely new faux fur stole from the Dorothy Perkins sale, I am so pleased I found one finally! It looks awesome with my leather jacket and generally everything in my wardrobe!
I haven't really worn this hat much recently as it's been so cold I've been preferring knitted bobble hats! I put this spiked River Island headband around my hat to make it look a bit different, you can't really tell here but I think it looks pretty cool!