Hello all! Hope everyone is having fun playing in the snow, and if not then I hope you're having fun in general anyway! Thanks to the red weather warning for South Wales, Uni was cancelled yesterday so we went and built a snowman (complete with Carnage t-shirt and can of Tesco Value beer in hand) and went sledging on some old trays we found in the garden! It was a fun day but very chilly, and I was glad to get back into bed when we came home!
However I was in a bit of a bad mood this morning what with some results I received last night and having a cold and general grumpiness so I took myself out into the slushy mushy snow and went shopping for medicines and treats. I got some serious bargains and needless to say I am well out of my bad mood now!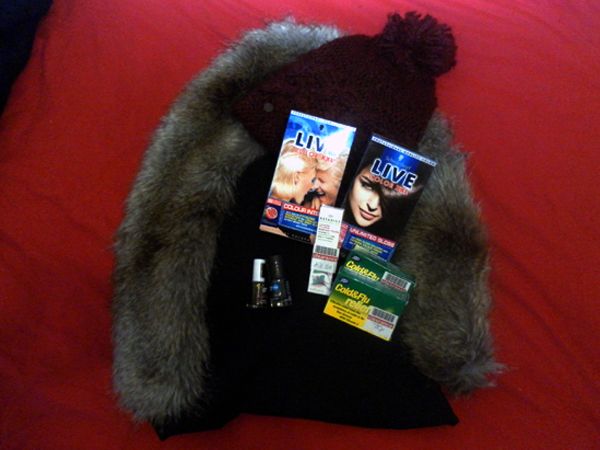 At the bottom of this pile is a black skater dress from Dorothy Perkins (£18). I've wanted a black skater dress for ages but have never really found The One. Well, this is it. Also with 25% student discount!
Next is a maroon bobble hat. I don't really need another hat but again have wanted one like this for ages, and it was £8 in the sale and again I got 25% student discount so really it would have been rude to leave it in the shop.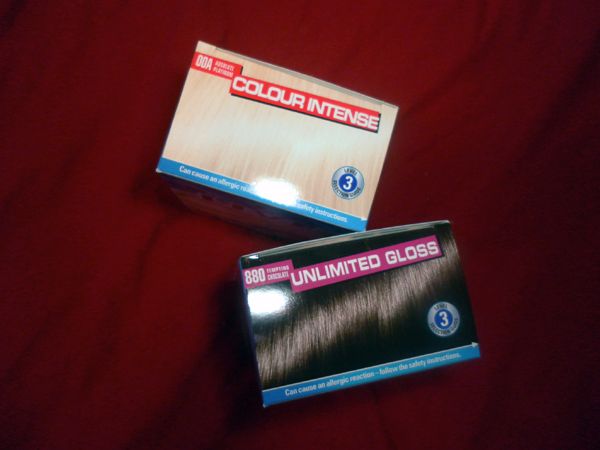 From Boots I got some hair dye (need to re-bleach the underside of my hair, and fix the roots on the top, hence the two completely opposite colours!) and they were on offer for £4 each. Then I found some cold and flu pills in the clearance section, which really isn't very exciting but they were only 90p each and just what I need!
Then I found this eye cream in the clearance. I know I'm only 21 but it's never too early to start using anti-wrinkle cream, right? Also it says £3.50 but either the woman at the till made a mistake or the label was wrong because I only paid £1.50 for it!
And finally, my best bargain of all. Let me just take this opportunity to stress
the importance of using the advantage card kiosks in Boots
. These machines are clever; they know what you like. I buy a lot of 17 and Rimmel make up and always get discounts and offers on those brands. Today I had two vouchers, one was '
half price 17 magnetized nail polish
' and one was '
free crackle top coat when you buy any 17 product
'. If you can do the maths, you'll realise that I got two nail varnishes (which should have totalled about £8) for only £2! The best part is that this also happened to me last week, so in total I've saved myself £12 on nail varnish in the past week, how good is that?!