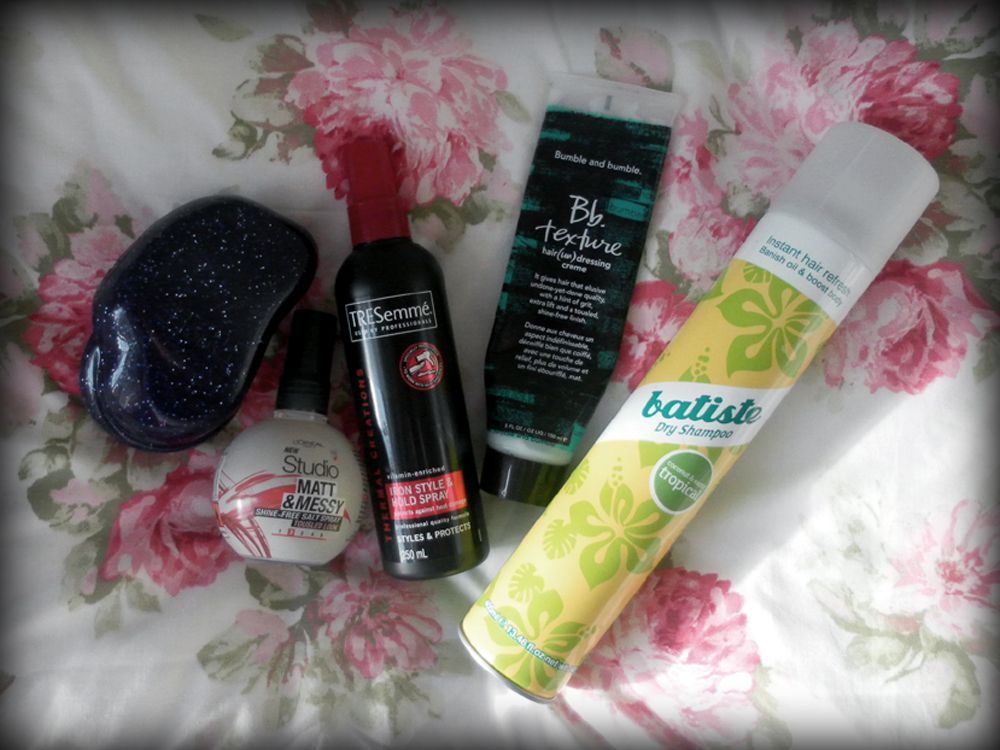 Just in case anyone is wondering, this week is going to involve a lot more beauty/product/review posts as I have work pretty much every day and am therefore going between my uniform and my pyjamas! As I've said before, I haven't really got a clue about beauty products but I try to give my honest opinions, so I hope my reviews make sense and people actually like reading them!

I also wanted to say how nice it is to have reached 40 followers! Maybe when I get to 50 I will do a mini giveaway :)


Believe it or not I actually have really thick, hard-to-manage hair. Not only does my Tangle Teezer make my hair easier to brush without pain and shrieking, but it is sparkly and purple! What more could you want?!
I use this after I've straightened my hair, I basically lift up sections of my hair, spray the underneaths (trying to avoid the roots) and then scrunch it into the style I want. It gives my hair really great texture without making it feel weighed down, although my advice is not to use too much otherwise it can make your hair feel sticky and crispy, not nice!
This is currently in my collection because last year I did a food shop at Asda online, and originally ordered
this heat-defence spray
, but it was out of stock so Asda sent me the next best thing. I actually really like it; it does the same job as any other heat defence spray but helps to hold a style such as curling or straightening. For a little extra hair protection boost I also use
Pantene Instant Damage Defence Spray
(not pictured because I've just run out!) on my ends for extra shine/flyaway control.
I've already reviewed this
here
but now as you can see I've pretty much used it up, proving that I think it's amazing and all the hype is definitely justified. The only thing putting me off repurchasing it is the price, I'm interested to see if there's anything similar available that might be a bit more purse-friendly!
Batiste Tropical Dry Shampoo
I love dry shampoo, I honestly can't get enough of it. It helps banish greasy hair but also adds texture and volume and makes my hair so much easier to style. The tropical one by Batiste is just the nicest smell! As you can see I have invested in the biggest size they have, but I also have miniatures dotted around at Uni and in my handbag!