I haven't really posted any outfits recently because I've been busy and wearing lazy clothes (read: being a tramp and wearing the
same skirt and men's top
all weekend). I'm trying to make my posts a bit more about my life and not just constant outfit pics. This is a kind of wishlist/inspiration/feature and I'd like to know if people want to see this kind of thing or if you prefer outfits :)
I pretty much wept constantly whilst making this because these clothes are all AMAZING and I really just don't have any money at the moment.
(Side note: my housemate and I raided the Tesco reduced section today, 55p pizzas and 35p brownie mix I can't say no to you)
. I really like velvet in outfits as it adds this luxurious feel while not feeling too ~dressy~.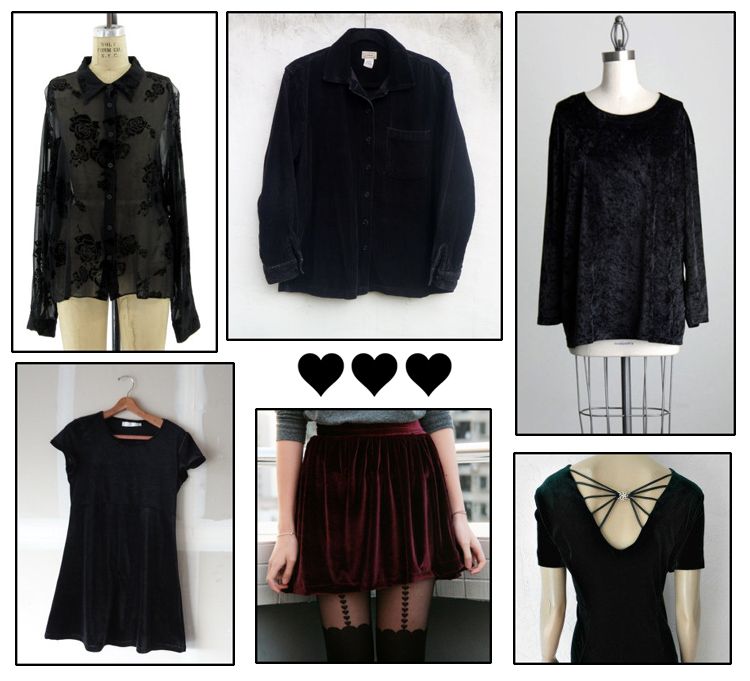 (From top left, clockwise)
I think all these different pieces show how versatile and easy to wear velvet can be. The Oxford shirt would be wonderful with a black bodycon skirt, heels and a bandeau underneath for a night out. The corduroy jacket would be great over a girly dress to add a bit of grunge and texture, and it looks really cozy too! I love the jumper and I would totally wear it with leggings because I'm lazy. If I had any patterned leggings (leopard print would be my preference) I think they'd look amazing with it!

The cage back dress looks really glamorous and probably too nice for me (I tend to go between lectures and the pub!) but it would be nice for a Christmas party. Same for the babydoll dress although that would be easier to 'daytime up' with a denim jacket and tights. My favourite is probably the burgundy skirt because of the colour and the fact that it's handmade! I'm also slightly coveting the model's skinny legs and cute tights!